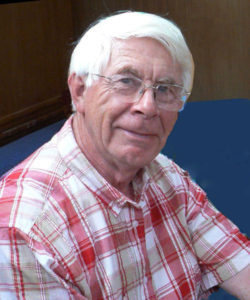 We are sad to have to report the death of John Mathias on 11th January. Last summer John retired from the Chairmanship of Fellowship to manage difficult health issues.
He had been Chairman for 5 years. Inviting him to be Chairman with the recommendations that came with him made it a no risk step for Fellowship however it was a surprising and courageous move for John to agree to be inserted at the top of an organisation he knew little about. Added to that, the costly expansion and refurbishment project was in full swing. For those on the Committee, his calm and gentle humour impressed. He skilfully kept everyone together especially when feelings ran a bit high sometimes as a new and bigger Fellowship started to change course a little.
He was never afraid of rolling up his sleeves and he managed to master the labyrinthine mysteries of the audio visual system with the ease of a professional. People will remember his approach to everything – unflustered and self effacing, his inability to speak ill of anyone and most of all, his great sense of humour.
A good man who will be much missed by all.