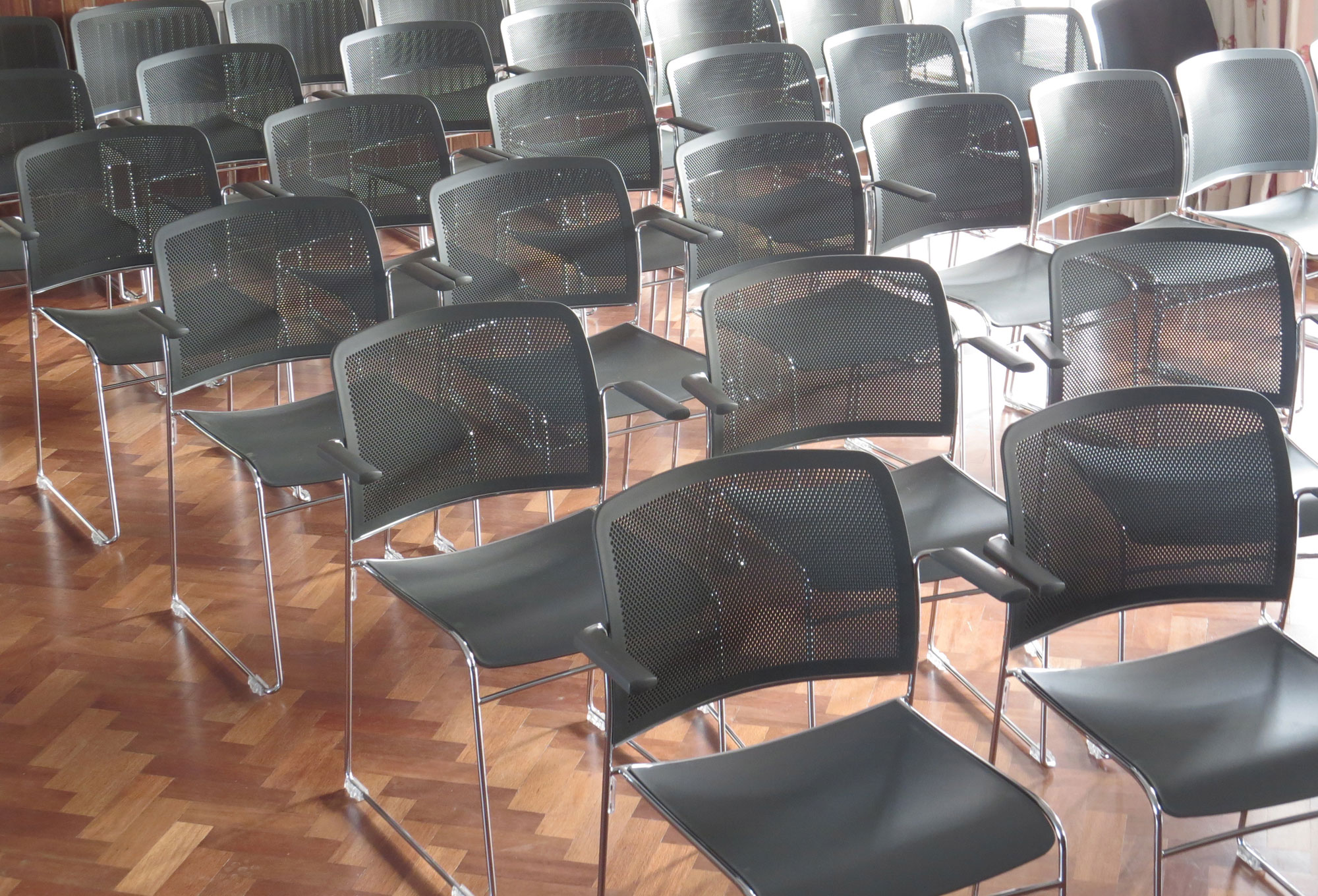 Fellowship's Weekly Talks have become a Suburb institution over the last decade. These are at 2.30pm every Tuesday except for the Fellowship House close down periods in August and at New Year. All Suburb residents are most welcome. Admission is £1 for members and £3 for non members and includes tea and biscuits after the talk, an opportunity for a chat with friends and fellow residents.
There have been literally hundreds of talks during the last 10 years on as many different subjects from a myriad of speakers from North London and beyond. A randomly selected list shown below under 'Previous Talks' gives some indication of the range of subjects.
April 25th 2017
'A Beginner's Guide to Brass Instruments'
Bob Winter
May 2nd 2017
John Freeman in conversation with Edith Sitwell
DVD of the 'Face to Face' BBC TV interview
May 9th 2017
'Lost London'
Phillip Davies
May 16th 2017
'Joseph Wright of Derby'
Lucrezia Walker
May 23rd 2017
'Both Sides of the Bench'
Judge Barrington Black
May 30th 2017
'He Loves and She Loves'
A love story illustrated by songs by the Gershwin brothers.
Francoise Geller & Gordon Griffin
June 6th 2017
'Corbett, Barker, Howerd, Allen, Dawson, Dodd – and Barry Humphies'
Ian Davidson
June 13th 2017
'My Love for Kathleen' – A Memory of My First Romance
Peter Falk
June 20th 2017
'Saying it with Flowers'
Poet Peter Phillips reads flower poems and others from his collections
June 27th 2017
'Are the streets now truly paved with gold? Conservation Areas turn 50'
Lester Hillman
July 4th 2017
'1966 And All That'
A talk by Colin Gregory on the creation of the Hampstead Garden Suburb Dramatic Society
July 11th 2017
'Cambodia : Towns and Temples'
An illustrated talk on his recent trip by local resident Ray Jones
July 18th 2017
'Think Jessica'
A talk by Dale Bevington from a registered charity making people aware of scams.
July 25th 2017
'Now I come to think of it – recollections of a life'
A talk by Roger Rose on his recently published autobiography.
The Great Fire of London – Lester Hillman
Orchids for Everyone – Professor Michael de Swiet
The Silk Road – Dr Frances Wood (former curator at the British Library)
Gender Indentity – Kirsten & Co from the Tavistock Centre
Hairdresser to the Stars – Barry Davis
A Blackbird Sang – David Matthews (Composer)
Viennese Operetten – Derek Scott
No School Tie – Peter Phillips (Poet)
Life in South Africa – Joy Barratt
Vegetarianism – Lisa Shend'ge
Elizabeth Louise Vigee le Brun – Lucrezia Walker (Art Historian)
Bridges – Klaus Falbe Hansen (Former Director Ove Arup)
An Orchestral Tour of India – Professor Rodney Slatford
A History of John Lewis – Amanda Timothy
Light in Medicine – Dr Peter Herbert
A Walk to Santiago de Compostela – Christine Battaye
Life as an Organist & Choirmaster – Jonathan Gregory (Free Church organist)
Medicine in Shakespeare – Professor Howard Jacobs
Russia: A Journey of Discovery – Helen Leiser
The Social Function of Humour – Martin Aaron
The Anne Frank Trust – Gillian Walmer (Co-founder)
Life on a Scottish Island – Richard Rowland
Royal Operations – Professor Harold Ellis
The Berlin Wall – Andrew Botterill
Blood – Phyllis Teasdale (formerly NHS Blood Service)
Musical Boxes – Dr John Reid
Wagner – Barry Millington (Wagner expert and music critic)
Britain in Bloom – Jim Buttress
The Soldier in Art – David Cohen
Autism – Lisa Dresner
Pilgrimage from Sienna to Rome – Ruth & Michael Jacobs
Field Marshall Montgomery – Angus Walker
Medecins Sans Frontieres – MSF staff
Chirality – Professor Laurence Barron
Birds, Music & Literature – Roger Rose
Octavia Hill – Pam Wright
Memories of Life under the Raj – Alison Newton
Life at Henrietta Barnett School – Oliver Blond (former Head Teacher)
Inflation in Tudor Times – Ken Carter
Evelyn Waugh & Basil Bouchier – The Rev Alan Walker
An Indian Portia – Kusoom Vadgama
Masorti Judaism – Rabbi J Wittenberg
A Week in North Korea – Tim Botterill and Elke Karskens
The Chinese Gooseberry Man – Geoff Hales & His Travelling Theatre