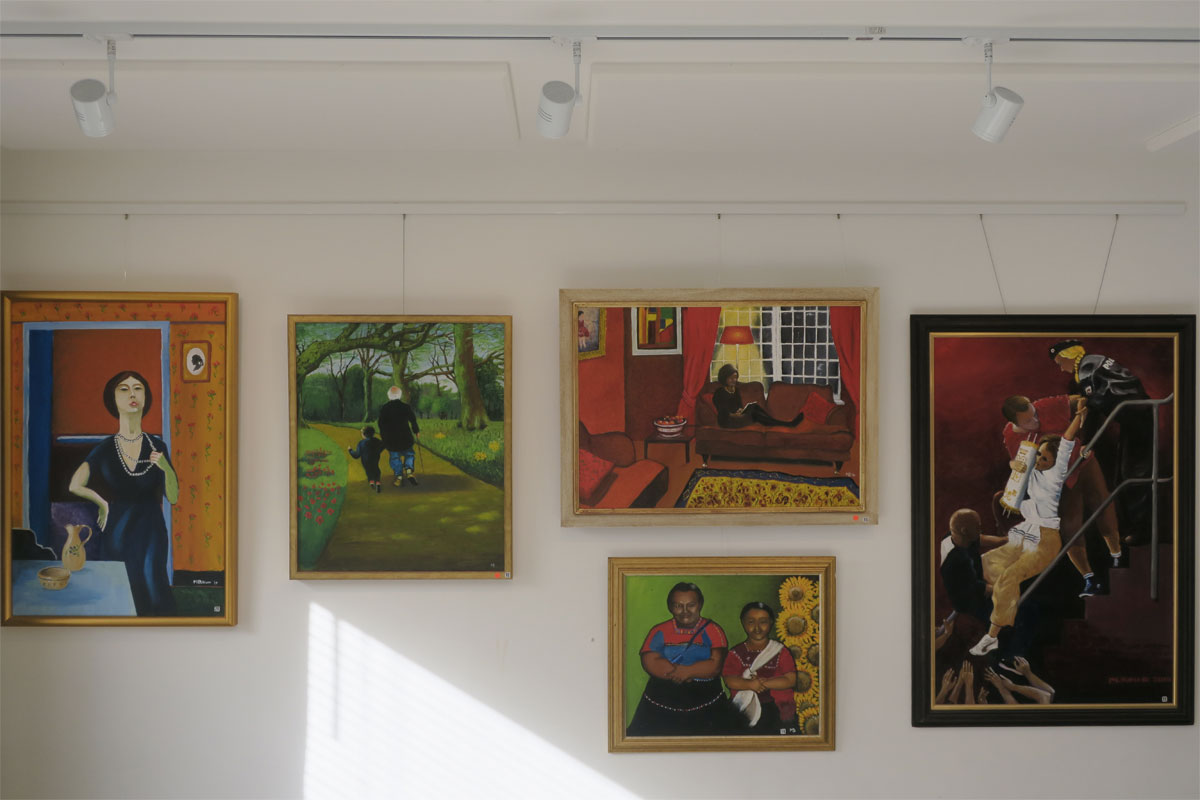 The old art gallery has been extended and radically improved with new lighting and display systems on three large hanging surfaces in the Eileen Whelan Room. In exceptional circumstances two further large display surfaces in the Reception area can also be used.
Fellowship's aim is to provide local artists with a free display facility for the enjoyment and interest of its members and Suburb residents. No charge is made for displaying artwork neither is commission taken on sales. Assistance can be given with hanging and with local publicity. Exhibitions usually last for at least a month. Insurance is the responsibility of exhibitors.
Guaranteed opening times are set for each exhibition (usually one daytime and one evening session per week). In addition the Art Gallery will be open whenever the building is open and the Eileen Whelan Room is not being used for other purposes.
Current Exhibition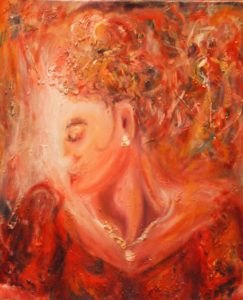 An exciting new exhibition featuring portraits and abstract work by Noah Max at Fellowship House on Willifield Green will run until 10th May. Admission is free and the exhibition is open whenever the building is open and the Eileen Whelen Room unoccupied. Guaranteed opening times are Tuesday and Friday afternoons from 2.30 to 4.00pm and on Wednesday evenings from 6.30 to 9.30pm. All works are for sale.
Noah Max has been described as the modern Renaissance Man. In addition to being a prolific artist he is an accomplished chamber musician, conductor, film maker and poet.
Of his art and this exhibition he writes:
'My interest in visual art divides into two areas which, superficially, are polar opposites: the
rigorous discipline of portraiture and the openness of abstract expressionism. The former allows
me to explore people's souls while the latter presents limitless possibilities for juxtaposing colour,
form and texture to create compositions which embody or provoke raw emotion. In recent years
these two disparate strands have drawn together; my portraits have taken on a more visceral and
emotionally involving quality while utilising a broader range of materials, and my abstract pieces
have absorbed elements of humanity. The result is an exhibition concerned with the beautifully
paradoxical nature of human beings.
All the portraits in this exhibition are of people I am, or was once, close to. These include family
members, friends, partners and mentors. The intimate emotions displayed in the abstract pieces,
the portraits and the hybrids remain equally close to my heart'.
Contact: noahmax1@gmail.com
Please email any other enquiries to art@fellowshiphouse.co.uk