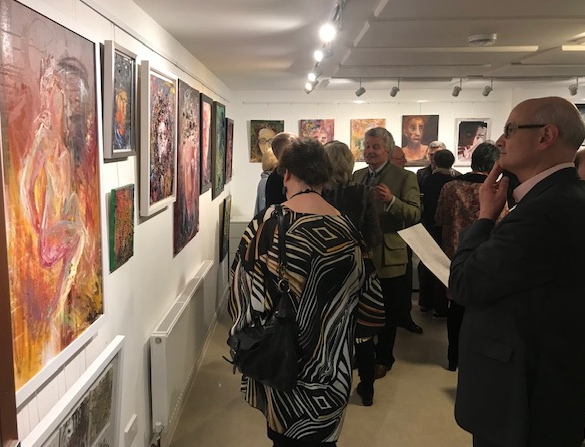 The old art gallery has been extended and radically improved with new lighting and display systems on three large hanging surfaces in the Eileen Whelan Room. In exceptional circumstances two further large display surfaces in the Reception area can also be used.
Fellowship's aim is to provide local artists with a free display facility for the enjoyment and interest of its members and Suburb residents. No charge is made for displaying artwork neither is commission taken on sales. Assistance can be given with hanging and with local publicity. Exhibitions usually last for at least a month. Insurance is the responsibility of exhibitors.
Guaranteed opening times are set for each exhibition (usually one daytime and one evening session per week). In addition the Art Gallery will be open whenever the building is open and the Eileen Whelan Room is not being used for other purposes.
Current Exhibition
Ruth Waterman has been known for many years as an outstanding violinist, broadcaster, conductor, speaker, and educator and more recently as an exhilarating writer and painter. Although she has been painting on and off for years while taking art classes at Citylit and the Slade, it wasn't until a portrait commission came her way that she let herself spend serious time with paint. This is her first solo exhibition. It's called 'Face to Face'. Some of her work is for sale. It runs at Fellowship House (136A Willifield Way) from the 7th to 30th June and is open any time the building is open and the Eileen Whelan Room is not being used for other purposes. Guaranteed opening times are Tuesday and Friday afternoons from 2.30 to 4.00pm and the evening of June 12th from 6.30 to 9.30pm. There will be a 'Meet the Artist' session on Wednesday June 19th from 6.30 – 8.00pm (reserve a place by emailing admin@ruthwaterman.com)
Ruth Waterman writes:
It all started with Beethoven. "Do another, do another", my art teacher instructed blithely, and on the sixth or seventh try, a portrait of Beethoven emerged that seemed to speak of 'Beethoven'. And then came another, a different 'Beethoven', but nonetheless 'Beethoven'.
Years later, I still find faces endlessly fascinating: constantly changing, from one moment to the next revealing and hiding who we are. I paint mainly from photographs, since they can capture much more intensity and variety of expression than a live sitter, who of necessity settles into a calm monotone that over time easily becomes frozen.
Painting my own face numerous times has produced an astonishing array of paintings. At first they all looked like my mother! Later I became less interested in getting a likeness than in capturing something unknown and unplanned. Face to face with my own face, each portrait tended to focus, unconsciously, on a particular essence that seemed to assert itself at that moment.
In this exhibition I'm including the original photographs that inspired the self-portraits; and, as a counterpoint, some abstracts, mostly a series of variations on one idea. If variety is the spice of life, it is also an essential fact of life. Exploring its subtleties and vagaries is not only a joy, but also a way of finding – and accepting – the multiplicity in ourselves and our world.
Please email any other enquiries to art@fellowshiphouse.co.uk